Adrienne Adams Elected Speaker of the New York City Council
*Reposted from Gotham Gazette. Written by Samar Khurshid* (photo: John McCarten/City Council)
Adrienne Adams, a Democrat from Queens, was officially elected as the Speaker of the New York City Council on Wednesday in a near-unanimous internal vote of the 51-member legislative body. Adams is the first Black person to lead the New York City Council and will lead the first-ever women-majority Council, with 31 seats held by women.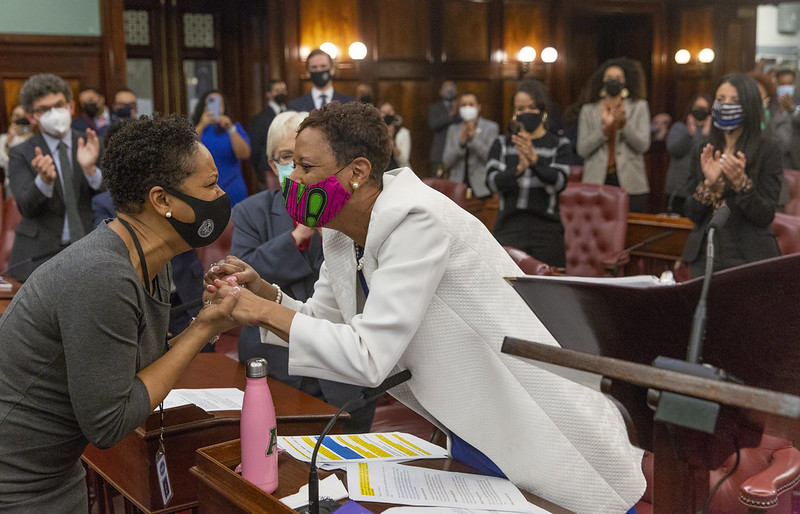 Adams represents District 28 in Queens, which includes the neighborhoods of Jamaica, Rochdale Village, Richmond Hill, and South Ozone Park. She was first elected to the Council in 2017 and will be term-limited out of office at the end of 2025. She is now leading one of the most diverse classes of the City Council ever seated, with 35 new members sworn in after the recent municipal election, counting the first Muslim woman, first Korean-American, and the first South-Asians among its representatives and other 'firsts.'
"I believe we can meet this moment with a clear head and a unified voice," Adams said in her first remarks as speaker after the vote. "We can show the rest of the nation that people from all walks of life on all points of the political spectrum can listen to one another. deliver solutions and do what is best for New York City."
As speaker, Adams is one of four elected officials with a citywide purview and takes over at a time of crisis. The Omicron covid variant is surging as the city nears two full years of the pandemic, and the economic and social recovery is slowly progressing. As Speaker, Adams is now responsible for, along with the members, setting its policy agenda and passing legislation, negotiating the city budget with Mayor Eric Adams, holding oversight hearings, coordinating constituent services, and more.