June 2011
Jun 30, 2011
Dear Producers,
MNN will be closed on Monday, July 4, 2011, in observance of Independence Day. All shows due on that date have until 2pm on Tuesday, July 5, 2011 to submit their programs. Any show submitted after 2pm will be considered late. If you have any questions, please contact the Tape Library at 212-757-2670 ext. 302 or email program@mnn.org.
Thank you,
MNN Team
Jun 29, 2011
Global Transmission is a Youth Channel series featuring documentary and narrative films from around the world. These films present the stories of villages, barrios, communities, towns outside of the United States. Through them we learn about peoples challenges, helping us reflect on our own way of living. Watch our latest episode.
Jun 24, 2011
"Margarita Pracatan" has been seducing audiences for years with her strange, robotic karaoke, sassy dance moves and bug eyes. Her music is fierce and fun, at times alarming, but it's how she channels her manic joy, and it's a good thing; Margarita is sure to brighten anyone's day. Tune in every Saturday at 9:30 PM on MNN2! Next air dates: 6/25 and 7/2.
Jun 23, 2011
Our yearly Awards and Wrap Up Screening is tomorrow, Friday, June 24th from 4-6pm. Showing the latest videos aired on the Youth Channel plus new works by our youth. To RSVP contact
diana@youthchannel.org
. Hope to see you then!
Jun 17, 2011
"That's Kentertainment!" is the kind of miracle that could only exist on MNN - a high-profile Broadway interview show, with fans like Stephen Sondheim and Liza Minnelli, hosted by the delightfully insane Ken Kleiber, a living cartoon character, who steals the show with his hilariously over-the-top song and dance numbers, Jesus T-shirts, wacky sound effects and alcoholism. It is the meeting of these extremes (Broadway royalty and public access) that is so compelling, and Ken makes it look easy, clearly enjoying his strange place in media. Let him Kentertain you: every late Thursday/early Friday at midnight on MNN1! Next air dates: 6/24 and 7/1.
Jun 17, 2011
If you would like to learn about MNN and or become a member please attend our Open House. Here you will learn about all of the great resources MNN has to offer. The Open House will be held on June 23rd from 1-3pm or 5:30-7:30pm. To register for this event please contact Stefanie Alleyne at stefanie@mnn.org.
Jun 15, 2011
Join ACM on July 27 – 30 in Tucson, AZ, for the Alliance for Community Media's Annual Conference & Exhibition. Meet with top industry professionals to explore key issues affecting public, educational and government access organizations and community media centers. Attend educational programs addressing fundraising, community engagement, CMC management, media and telecom policy, and much more!
Jun 13, 2011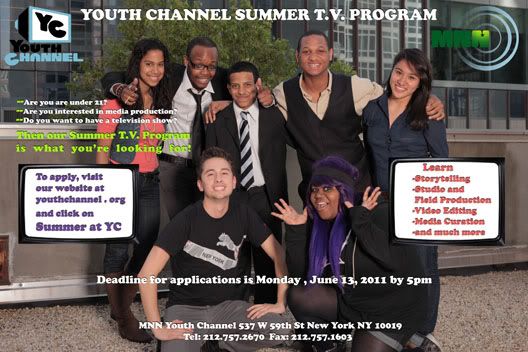 Download the application and apply today.
Jun 10, 2011
"The Arthur Thompson Show" is an amusing assault of hokey legends and false folklore, delivered by none other than Arthur Thompson! This is a new kind of theater - a one-man show from one man's basement. Thompson is like the Mad Hatter, your only guide in this chaotic world, but completely unreliable, and that's the fun of it! Tune in every Thursday at 4:30 PM on MNN2! Next air dates: 6/16 and 6/23.
Jun 10, 2011
Watch Arlene on MNN 30 and find out how to tag your videos on youtube, vemeo, and blip tv.
Remember that tagging your videos with mnnnyc or mnntv will link them directly to the MNN RSS feed.
Jun 3, 2011
"Media Funhouse," airing on MNN for 20 or so years, is the brainchild of Ed Grant, who spends much of the half-hour screening and salivating over '60s art films and French New Wave cinema. Ed's enthusiasm is contagious (his delivery is funny and bombastic) and his knowledge is great (he has a penchant for the trashy). In 2009, The Village Voice hailed "Media" as the Best Public-Access Show. Come see why: every late Saturday/early Sunday at 1 AM on MNN3! Next air dates: 6/5 and 6/12.